'Zen' is the Japanese word for a practice of meditation, and is a word which we in the West often associated with stillness and peace. Jon J. Muth has used his time in Japan as the inspiration for his book Zen Shorts, a way to introduce children to the idea of meditation, contemplation, and peacefulness.
"Three children meet Stillwater, a giant panda who tells amazing tales about the importance of generosity, the boundaries of good and bad, and what it means to hold on to frustration. With graceful art and simple stories that are filled with love and enlightenment, Jon J Muth presents three ancient Zen tales that are sure to strike a chord." -Scholastic Inc.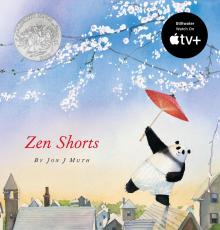 biblio basics 
Zen Shorts by Jon J. Muth
Publisher: Scholastic Inc., 2005
Format & Genre: Picture Book , Folk Tales
Age Range: 5-10 years old
Themes: kindness, compassion, mindfulness
Source: Purchased copy
It is not often that a book comes along that can prompt such deep thought and contemplation as Zen Shorts. The beautiful images and thoughtful text are truly a work of art, working together in true zen fashion. Three folk tales are told through the character of Stillwater, a large and lovable panda. Three children, Addy, Michael, and Karl, happen to be neighbours with Stillwater. The children meet Stillwater after his bright red umbrella floats into their yard. The children quickly become friends with this wise panda, and he gratefully passes on his knowledge to them.
Muth has artfully used two illustration styles: delicate water colours for scenes with the children and Stillwater, and sumi e style ink drawings for the tales that Stillwater tells. I appreciate that Muth has chosen to help separate the two worlds by using illustrations. Not only does it make the beginning of the tales obvious, it is much more engaging than illustrations of Stillwater simply sitting in front of the children talking. Muth's water colours are delicate and detailed, and the ink drawings are simple but bold.
Muth has done an excellent job of paying homage to the Buddhist and Taoist traditions which he has based his book on. At the end of the book there is a full page outlining where the traditional stories came from, why he chose them, where the character "Stillwater" got his name from, and why he feels connected to this subject. The tales presented in this book carry so much meaning, and even as an adult I find myself thinking back to them. The story A Heavy Load is one I constantly think about and share with others, especially in times when I feel I have been wronged by another person. Muth has written several other books featuring Stillwater the zen panda, including Zen Ghosts, Zen Ties and Zen Socks.
The content of the book is accessible to school aged children, or if you have more contemplative preschoolers. The book has quite a bit of text, so younger children might find it hard to stay focused if you read the book from cover to cover. But then again, because of the three distinct tales told in the book, you could break it up into 3 separate readings. School age children will have many experiences they can relate to the tales in the book, and undoubtedly prompt many discussions and contemplative acts. Zen Shorts  is an excellent and beautiful read aloud, and will have every member of your family feeling more centered and peaceful.
biblio activities 
Zen Shorts is an excellent book for opening up discussions with your children, as well as practicing mindful activities. Here are some ideas to get you going:
Pint Size Philosophy: Before you get scared away, having a discussion about philosophy is not as hard as you might think. Philosophy is merely the act of contemplating our existence, knowledge and values. Children are naturally curious and will often have philosophical discussion unprompted. As adults, we often stop having these conversations and get caught up with the daily responsibilities of life. Teaching Children Philosophy has put together some questions that accompany Zen Shorts which can help spark a meaningful discussion like "What does it mean to be generous?" or "How would society be if no one shared?".
Meditation and Yoga: There has been widespread coverage of the positive impact mindfulness and yoga practices are having on young children. These practices help children connect to their bodies, listen to their inner voices, relieve stress, and help cope with strong emotions. There are many resources out there to help your little ones with their yoga and meditation practice. One of my favourites are yoga cards, like Yoga Pretzels. Cosmic Kids has a youtube channel, with a special playlist called the Zen Den, filled with mindful exercises. So grab a mat and begin to breathe.
Ink Painting: Sumi e is the traditional form of East Asian ink wash painting. You and your littles can be creative and mindful and try to create beautiful images in this ancient style. All you need is black watercolour paint, brushes, and watercolour paper. Your images can be entirely black and white, or they can include a single accent colour. Traditional subjects include plants and birds, but you can let your imagination be your guide.